LABORATORY OF CELL CULTURES, FACULTY OF MEDICINE

Palacký University Olomouc
Hněvotínská 3, 775 15 Olomouc,
Czech Republic
Phone: +420-585 632 302      Fax: +420-585 632 312     e-mail: jitka.ulrichova@upol.cz
Testing laboratory No. 1308, accredited by Czech Accreditation Institute, o.p.s. in accord to ČSN EN ISO/IEC 17025:2018, Certificate of Accreditation No. 269/2019 of 06/06/2019.
The Laboratory of Cell Cultures offers biological evaluation of medical devices to meet the high demands of both contemporary equipment manufacturers and health care providers.
All accredited tests comply with Standard Operating Procedures, based on ČSN EN ISO 10 993 "Biological evaluation of medical devices" and ČSN EN ISO 7405 "Dentistry – Preclinical evaluation of biocompatibility of medical devices used in dentistry – test methods for dental materials".
Test name

Cytotoxicity tests in vitro

Tested Materials
Test of direct contact
Insoluble solid samples with at least one flat surface
Test of extract
Insoluble solid samples
Test of soluble samples
Soluble solid samples, liquid  samples
Accredited biological evaluations utilise mouse fibroblasts NIH 3T3 and Balb/c 3T3 lines.
The accredited testing Laboratory of Cell Cultures can also provide other biological tests using primary cell cultures, cell lines, and subcellular fractions in co-operation with the Department of Medical Chemistry and Biochemistry, Faculty of Medicine and Dentistry, Palacký University Olomouc.
Examples of available cell systems:
 
 
 
Rat Hepatocytes
 
 
 
Human Hepatocytes
 
 
Rat Neonatal Cardiomyocytes
 
 
Human Umbilical Vein Endothelial Cells – HUVEC
 
Human Keratinocytes
 
 
Human Fibroblasts
 
 
Human Osteoblasts
 
 
 
Cancerous cell lines – HepG2, SaOS, HL-60, T-REX HeLa, ….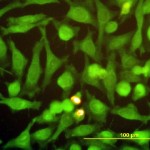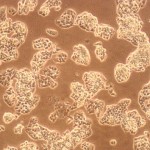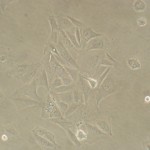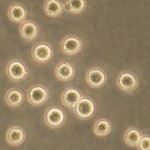 Laboratory staff
Prof. RNDr. Jitka Ulrichová, CSc.               Head of the laboratory
Ing. Adéla Galandáková, PhD.                      Technical Head of the laboratory
Mgr. Pavel Kosina, PhD.                                Quality manager
Sylva Snášelová                                            Technician